OLD Puppy Classes (Under 4 months)

The first 12 months of a dogs life are hugely important. If you want to get things right start with a Puppy Training Course to build a solid foundation for your pups future.
---
New puppy? These classes will put you and your pup on the same page. You'll learn how to use positive reinforcement training to teach your dog how you want him to behave, and gentle but effective ways to discipline when he doesn't. You'll also learn how to avoid future behavior problems. And you'll both have plenty of fun in the process!

Topics include: Basic manners, solving problems like jumping and chewing, and how to teach your dog sit, down, stay, come, and polite leadwalking.
Puppies Only class is suitable for: Pups 8-16 weeks
What you will get from our puppy training:
6 weeks of training (Week 1, without puppies to answer all your questions)

Degree qualified trainers who will support you throughout the 6 weeks

A family friendly training environment with

complimentary

refreshments

Access to our members area on our website with lots of useful information and tips

Our online Puppy training course, with weekly videos/handouts (worth £29.99)

Our Ebook (worth £4.99) '12 Steps to the Perfect Dog'

A free of charge fun filled day in our Day School (worth £20.00)
Our comprehensive course covers:

Responding to their name

Eye contact and attention

'Leave it' and 'Take it'

Toilet Training

Play Biting

Handling and Restraint including nail clipping - to make vets and grooming trips easier

'Sit'

'Down'

'Stand'

'Settle' - so you can relax at home without a puppy jumping all over you

Control through a Doorway - to make going out for walks much easier

'Stay'

Walking on a Loose Lead - to make your walks more enjoyable

Recall - so you can have your pup off lead safely

Greeting People without Jumping Up - so you don't get muddy clothes

Taking Food without Snatching - so you don't lose your fingers :-)
£90 for the 6 week course, 1 hr class duration per week - BOOKING REQUIRED
The dates below are the week 1 dates, the class then continues for 6 weeks at the same time/day each week.
Thursday 23rd August at 7:00pm
Monday 3rd September at 6:00pm
Sunday 9th September at 12:30pm
Saturday 15th September at 9:30am
Wednesday 19th September at 6:00pm
Thursday 27th September at 7:00pm
For more information on dates and times please call us on 01482 823555, option 1!
Please call 01482 823555 to book or book online by clicking here.
---
Kennel Club Puppy Foundation Award

Involves a range of basic obedience exercises and assessments to assess the social ability and soundness of temperament of your puppy. You can complete the Puppy Foundation alongside your Puppy Training course with us.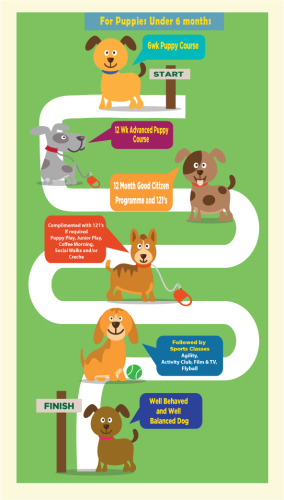 Upgrade to complete this award during your basic puppy training for only £7.50 per puppy.
Visit the Kennel Club Website for more information on the scheme, click here.
Puppy Training Options:
6 Week Practical Puppy Training Course - only £90 (Book online for £95 due to paypal fees)
6 Week Practical Puppy Training Course plus Kennel Club Puppy Foundation Award - £97.50
Train at Home via our online video course - £29.99, click here for more information.
Terms and Conditions - Training Classes
Cancellations less than 14 days before the class start date are non-refundable or transferable. Cancellations or non-attendance part way through the course are non-refundable
or transferable in all circumstances. Cancellations over 14 days prior to the class start date are subject to a £5 administration fee. Upon booking the course, please make sure you are able to commit to the full duration of the course. For full terms and conditions, please click here.