OLD Puppy Course Week 6
Well its was graduation week this week. Well done on completing your basic puppy training course.
I'm sure you will have benefitted from the intensive programme of training with Oakwood. Hopefully you will have enrolled on progression training and will continue to improve your puppies basic skills from next week.
You will also receive a feedback form this week, please take the time to complete the form as it helps us to improve our classes for future customers.
I trust you will have received excellent customer service from us, if you have we would be grateful if you would put a testimonial on our website http://www.oakwood-canine-services.co.uk/testimonials/
If the service was below your expectations then please email me personally at gill@oakwoodcanineservices.co.uk
Below are links for relevant hand-outs from this weeks class.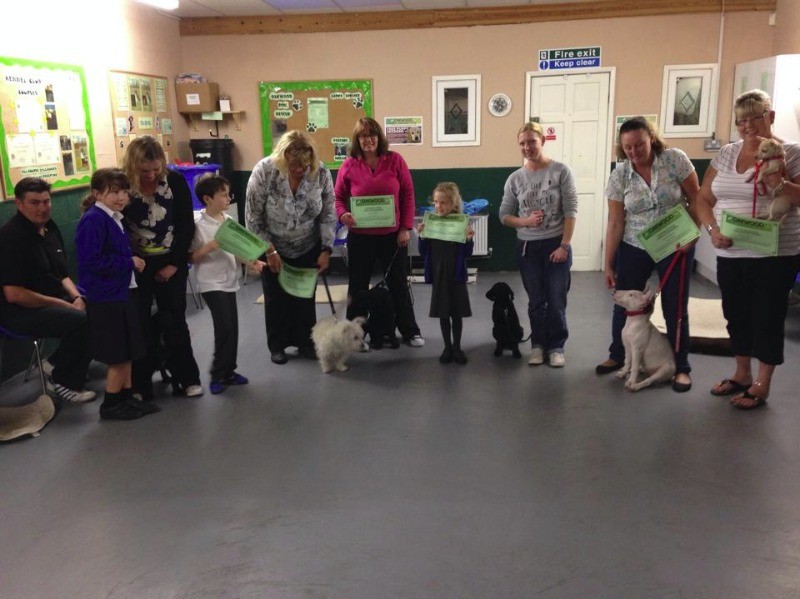 Don't forget our social services - Social Walks/Coffee Mornings and Junior Playgroups. How about joining us on our Social Walks or Junior Playgroups to keep your pups socialisation going? If you are enrolled on any of our follow on courses then you will receive our social walks half price, only £2.50 per dog.

We take a photo of every class graduation and will post these on our facebook page. See our links below, we have 4 facebook pages, one for every part of the business.
https://www.facebook.com/oakwooddogservices.oakwood - Oakwood Dog Rescue
https://www.facebook.com/OakwoodCanineServices - Oakwood Canine Services
https://www.facebook.com/pages/Oakwood-Dog-Grooming/356983267729070 - Oakwood Dog Grooming
https://www.facebook.com/oakwooddoggydaycare - Oakwood Dog Daycare