The first 12 months of a dogs life are hugely important. If you want to get things right start with a Puppy Training Course to build a solid foundation for your pups future.
New puppy? These classes will put you and your pup on the same page. You'll learn how to use positive reinforcement training to teach your dog how you want him to behave, and gentle but effective ways to discipline when he doesn't. You'll also learn how to avoid future behavior problems. And you'll both have plenty of fun in the process!

Topics include: Basic manners, solving problems like jumping and chewing, and how to teach your dog sit, down, stay, come, and polite leadwalking.
Puppies Only class is suitable for: Pups 8-16 weeks
Get started and book online by pressing the button below!
What you will get from our puppy training:
6 weeks of training (Week 1, without puppies to answer all your questions)
Degree qualified trainers who will support you throughout the 6 weeks
A family friendly training environment with complimentary refreshments
Access to our members area on our website with lots of useful information and tips
Our online Puppy training course, with weekly handouts (worth £29.99)
Our Ebook (worth £4.99) '12 Steps to the Perfect Dog'
Our comprehensive course covers:
Responding to their name
Eye contact and attention
'Leave it' and 'Take it'
Toilet Training
Play Biting
Handling and Restraint including nail clipping - to make vets and grooming trips easier
'Sit'
'Down'
'Stand'
'Settle' - so you can relax at home without a puppy jumping all over you
Control through a Doorway - to make going out for walks much easier
'Stay'
Walking on a Loose Lead - to make your walks more enjoyable
Recall - so you can have your pup off lead safely
Greeting People without Jumping Up - so you don't get muddy clothes
Taking Food without Snatching - so you don't lose your fingers :-)
Introducing Oakwood Tiers!
Below you will find our pricing tiers for puppy training and what exactly they include: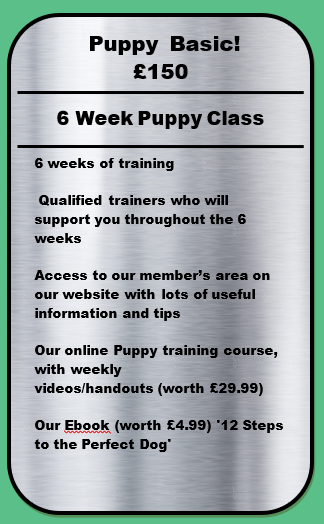 Get your puppy off to the right start with our 6 week puppy course! Full details of this course are listed in the sections above.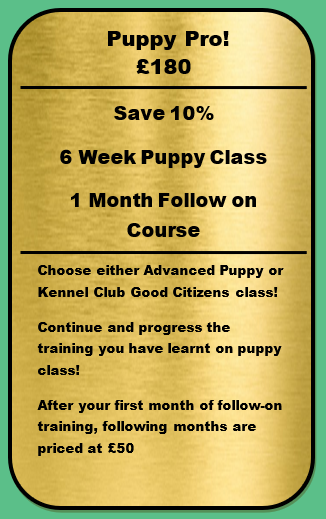 Take your puppy into adolescence with their basic obedience and then push them further with our advanced classes.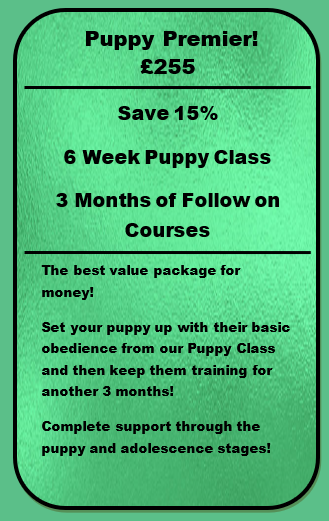 You and your puppy are all set for the first 6 months of their life and beyond. This package is the best value for money and gives you our ongoing support through the most important stage of your dogs life!
Follow on classes are subject to availibility and are to be booked after your 6 week puppy class is complete. For more information on what our follow on classes include click here.